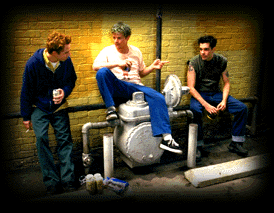 <--- ah, typical movie critics...
you made it to:

(All opinions contained on these pages are the results of Jester Vicar's unending search to find things that he likes. Hey, don't we all have them?)
Up until a while ago, this site was formerly known as the Review-O-Rama. I dumped the label for three reasons: first, I don't get out to the movies enough to be able to review every schlock masterpiece that comes down the pike, so this isn't really a review site. More of a "Oh my God, that movie rocked/sucked!" place. Secondly, I wanted to add books. It's my site and I'll do whatever I want with it, so there. Thirdly, there was so many cheesy as hell web sites with "O-Rama" in the title that I was starting to feel like like a Packer fan. This cheesy as hell web site will always be different, I assure you. After all, this page was created for everybody.
"Say what? For us? What the hell are you talking about?"
How many times have you gone out to rent the "new hit movie" from Blockbuster's or gone to Cineplex 10 and walked out mad as hell? There's a lot of bad movies out there, tons of them. Most of friends ask for my advice when it comes to renting movies, and the ones I can't answer I refer to Chris Sutton, the most movie knowedgeable guy that I know. Here's the wisdom I've learned from him, and I'm giving it to you for free. I'm such a pushover.
"I wanna give you a big hug."
Aw, thanks. Okay, let go. New visitors to this page may notice a sparse format: mostly text, less pics. The reason for this is twofold. First, sometimes it can be pretty hard to find the right image to with a certain paragraph, and I like my web sites to be economical but pleasing to the eye. Since I'm not going to change this background, it makes it tough on photos. Thanks to Ivan Guillen for cataloguing a whole hell of a lot of photos from The Doom Generation and the offical SubUrbia movie site. They're responsible for pictures you see here. If you find good ones from the movies below, let me know. I don't have time to go out and track down every cool picture on the net and still chase girls. This isn't my whole life: I like to party, too.
"Hee hee, you're just a film geek, aren't you?"
Um, yes. Secondly if you've seen the movie, you can dredge your own memory for what scene goes with what description. If you haven't seen it or can't remember, then run out right after you get done with the capsule review and see the flick. Fair enough? Recommendations work like this: if you see one of these movies on this site, I recommend it. I may add a list of films that I hate later on, I'm not sure. Jingle All TheWay and The Fifth Element will be there I assure you. 'Nuff said.
"About time. You ramble too-"
Oh and one more thing: if you want to mail in your own movie reviews, I'll gladly add them to the review section. So until somebody gets the gumption to send in some thoughts of their own, all of these movie thoughts are brought to you by myself. Hope you get some good flicks out of here. This index page has been turned black for Friday the 13th, hope you like it. It'll probably be like this a while.

Films You Want To See:
Chasing Amy: It's got lesbians, comic books and beer, what's not to like? The Elysian Fields takes a look at the creator of the New Jersey Trilogy, focusing mainly on his newest work Chasing Amy.
Raising Arizona: The Coen Brothers are spotlighted with "a comedy beyond belief." It lives up to the billing. You haven't seen it? Follow this link and let me tell you a story...
Stand By Me: If you don't like this movie, I don't even want to know that you exist on my planet. And if you watch this movie and don't get it, you're a communist bunnie strangling thug.
Miller's Crossing: Gotta love those Coens. The best gangster flick ever.
Empire Records: "'Damn the man?' What the hell is this crap- oh, hee, hee..." Learn how a totally stupid movie made me rent it three times.
Trees' Lounge: Anybody who says Barfly is the best drinking movie of all time has never seen Steve Buscemi's directorial debut. I have, and it rocked.
Reservoir Dogs: speaking of Steve Buscemi, this is the movie that made every guy under 25 years old think he was a god. QT's first movie was a success, but was it really that good?
The Doom Generation: So tell me: is Gregg Araki an idiot or a genius? Since it's been about five months and none of the people I've talked to have solved it yet, I'm curious myself.
SubUrbia: Great movie, great director, great script, lousy box office. Why do the film gods have it in for Richard Linklater, and how could this movie have possibly failed? It wasn't as hard as you think it might have been.
Hellraiser: Clive Barker believes that being dead doesn't mean you can't get laid. A truly original horror story from the Master Himself.
David Fincher: not a movie unto himself, but very good nonetheless.
Jackie Brown: not too hip, not too dry, just about right. Tarantino grows up and does a movie worthy of his talent.
Mouse Hunt: I'm not serious, you say? I am. It's good.
Books You Want To Read:
Coming soon... there's still lots of studying to be done of the candidates.
But since you were here, why don't you sign my guestbook or just view it, anyway?


Jester Vicar's Optical Illusions: The only fix for humor, columns, fiction, on-line novels and essays you'll ever need.
Jester Vicar's Black Hole Of Hatred: Hurt feelings. Anger. Misery. All right!
Comrades In Arms: Friends and people that he admires. Comparitively speaking, they're saints.
plus 198 intelligent choices assisted since 7/23/97
Oh sure, go ahead and mail me at jvicar@hotmail.com, I don't mind.